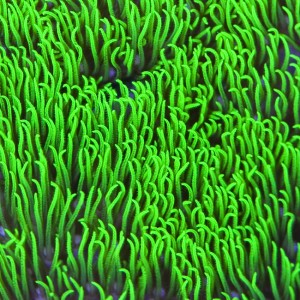 Display all pictures
› CLONE
You will receive a coral that will be nearly identical to the one shown in the photograph. There may be some variation in the size and shape.
Gables Green Star Polyps (Heirloom Coral)
Gables Green Star Polyps (Briareum violacea)
*Heirloom Coral* 
Size Shipped: 1" hexagonal tile
Max size in the aquarium: infinite
Lighting: Low-High (brightest color in medium to high light)
Water flow: Medium-High (for best polyp extension)
Feeding: Unnecessary, although planktonic coral foods (such as Zoplan) are eagerly accepted 
› Description
An heirloom strain of the classic green star polyps!  Gables Green has been in cultivation in Miami for at least 15 years, originating through Gables Aquarium.  Gables GSP is considerable more fluorescent green than standard strain, but its real hallmark is how long the tentacles become in good water flow.  This results in the polyps flowing and billowing in a mesmerizing fashion. The white centers of the polyps are usually shrouded away under the long polyps, resulting in a solid carpet of neon green 'grass'. 
Like all green star polyps, Gables Green is fast growing and will overgrow your other corals and rockwork if placed nearby. When aquascaping with GSP, it is important to consider 2-5 years down the road, when they will have spread considerably.  Therefore we recommend the strategic placement of Gables Green on the back of the aquarium glass, PVC piping, as an 'island' in the sandbed, or on the aquarium bottom in a substrate-less reef. This will allow you to manage your GSP and prune it as necessary without worrying that it will overgrow your main rockwork.  However, a GSP dominated nano reef can also be a striking aquascape.