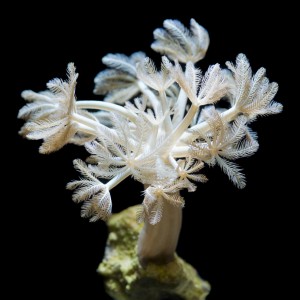 › CLONE
You will receive a coral that will be nearly identical to the one shown in the photograph. There may be some variation in the size and shape.
White Pom-Pom Xenia (Xenia umbellata)
White Pom-Pom Xenia (Xenia umbellata)
Size Shipped: 2"
Max Size: 3" 
› Description
A reef aquarium classic! Pulsing white snowflake polyps enliven your reef with mesmerizing motion. A fast grower, so be sure to put it in an area where it won't out compete your other corals. Consider growing it on an 'island' in your sandbed, or on the back of the aquarium glass. Or perhaps dedicate an entire aquarium to Xenia to really make a stunning impact. Keep in mind that the clones that we will ship you will be small, starter colonies about 2" high. Within a couple months they should reach their full size in your aquarium. These smaller colonies ship considerably better than adult colonies.
Lighting: Medium-High 
Water Flow: Medium
Notes:  Acclimates best in an established reef aquarium.  Additions of iodine appear necessary for best health and pulsation.