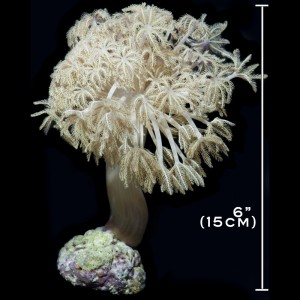 › CLONE
You will receive a coral that will be nearly identical to the one shown in the photograph. There may be some variation in the size and shape.
Vargas Giant Pom-Pom Xenia (Heirloom Coral)
Vargas GIANT Pom-Pom Xenia (Xenia umbellata) 
*Heirloom Coral* 
Size Shipped: 3"
Max Size: 6"
Water Flow: Medium
Lighting: Medium-High
Notes:  Acclimates best in an established reef aquarium.  Additions of iodine appear necessary for best health.  
› Description
This heirloom morph of pom-pom Xenia is originally from the home aquarium of author Tony Vargas, and extremely rare! This type of Xenia is GIANT, and unlike any other forms we've seen in aquaria or in the wild. The pictured mother colony is approximately 6" tall, with a single fat stalk, and large snowflake polyps that dwarf any other type of pom-pom Xenia out there. Under good lighting, the color is a striking silver-white with very active pulsing polyps. Because of its massive size, it doesn't spread nearly as quickly as the regular forms, which makes it a better option for the mix-reef aquarium than other types of Xenia. Keep in mind that the clones that we will ship you will be small, starter colonies about 2" high. Within a couple months they should reach their full size in your aquarium. These smaller colonies ship considerably better than adult colonies.