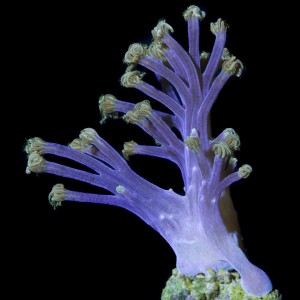 › CLONE
You will receive a coral that will be nearly identical to the one shown in the photograph. There may be some variation in the size and shape.
Vargas Purple Monster Cespitularia/Efflatounaria (Heirloom Coral)
Vargas Purple Monster Cespitularia/Efflatounaria sp.
*Heirloom Coral* 
Size Shipped: 2-3"
Max size: 6-8" tall 
Lighting: Medium-High  
Water Flow: Medium water flow encourages maximum polyp expansion and height.
Feeding: Unnecessary, although planktonic coral foods (such as Zoplan) are eagerly accepted 
Notes: Stable water quality and alkalinity seem to ensure best health and fastest growth. 
› Description
This rare and beautiful heirloom soft coral is a non-pulsing relative of Xenia gifted to us from the aquarium of author Tony Vargas. It is a beautiful crystalline purple/blue color that really pops when seen top down through the water or illuminated by a camera flash. There is some confusion as to whether this soft coral is Cespitularia or Efflatounaria.  Its growth form is considerably more robust and seems to spread more quickly than our Crystal Blue Cespitularia.