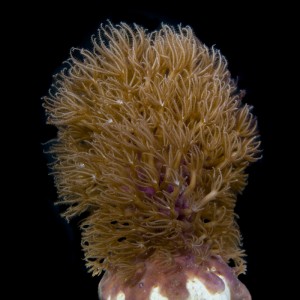 Display all pictures
› CLONE
You will receive a coral that will be nearly identical to the one shown in the photograph. There may be some variation in the size and shape.
Corky Eco-Gorg™ (Briareum asbestinum)
Corky Eco-Gorg™
(Briareum asbestinum) 
Size shipped: 2-3"
Max Size: variable 
Lighting: Low-High
Water Flow: Medium 
Feeding: Not necessary, although planktonic coral foods (e.g. Zoplan) are eagerly accepted and will increase growth rate 
› Description
The Corky Eco-Gorg™ is an exceptionally hardy relative of the commonly encountered green star polyps from the Indo-Pacific. However, the Corky Eco-Gorg forms upright knobby growths that develop into pillars. When the polyps are extended, the colony appears soft and fuzzy; when retracted the colony appears smooth and rubbery.  In the wild, this species is known for overgrowing other gorgonians and killing them, and similar caution should be taken when placing them in the aquarium.  However, they are perfect additions to a sea horse or Caribbean soft coral biotope. A great beginners coral.