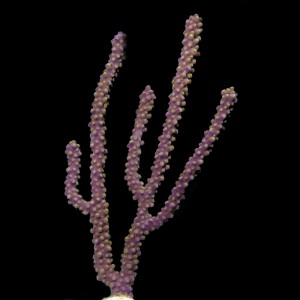 Display all pictures
› CLONE
You will receive a coral that will be nearly identical to the one shown in the photograph. There may be some variation in the size and shape.
Purple Eunice Eco-Gorg™ (Eunicea sp.)
Purple Eunice Eco-Gorg™
(Eunicea sp.) 
Size: 4-6"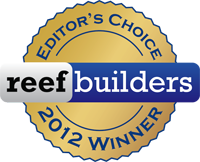 › Description
The Purple Eunice Eco-Gorg™ is a very rare color morph of a hardy gorgonian that is a favorite of expert aquarist Julian Sprung. However, it shouldn't be allowed to come into contact with other gorgonians, corals, or anemones to minimize inter-species aggression. Purple Polestars can adapt to a wide variety of lighting and prefer decent water flow.  
This purple Eunicea sp. is a highly collectible color morph of a striking photosynthetic gorgonian that grows upright branches. The gorgonian tissue is an ultra purple color while the chocolate-colored polyps give it a fuzzy appearance when fully open.
Eunice gorgonians appear fuzzy when the polyps are extended, but they all have a relatively rough tissue texture defined up upturned calyces.